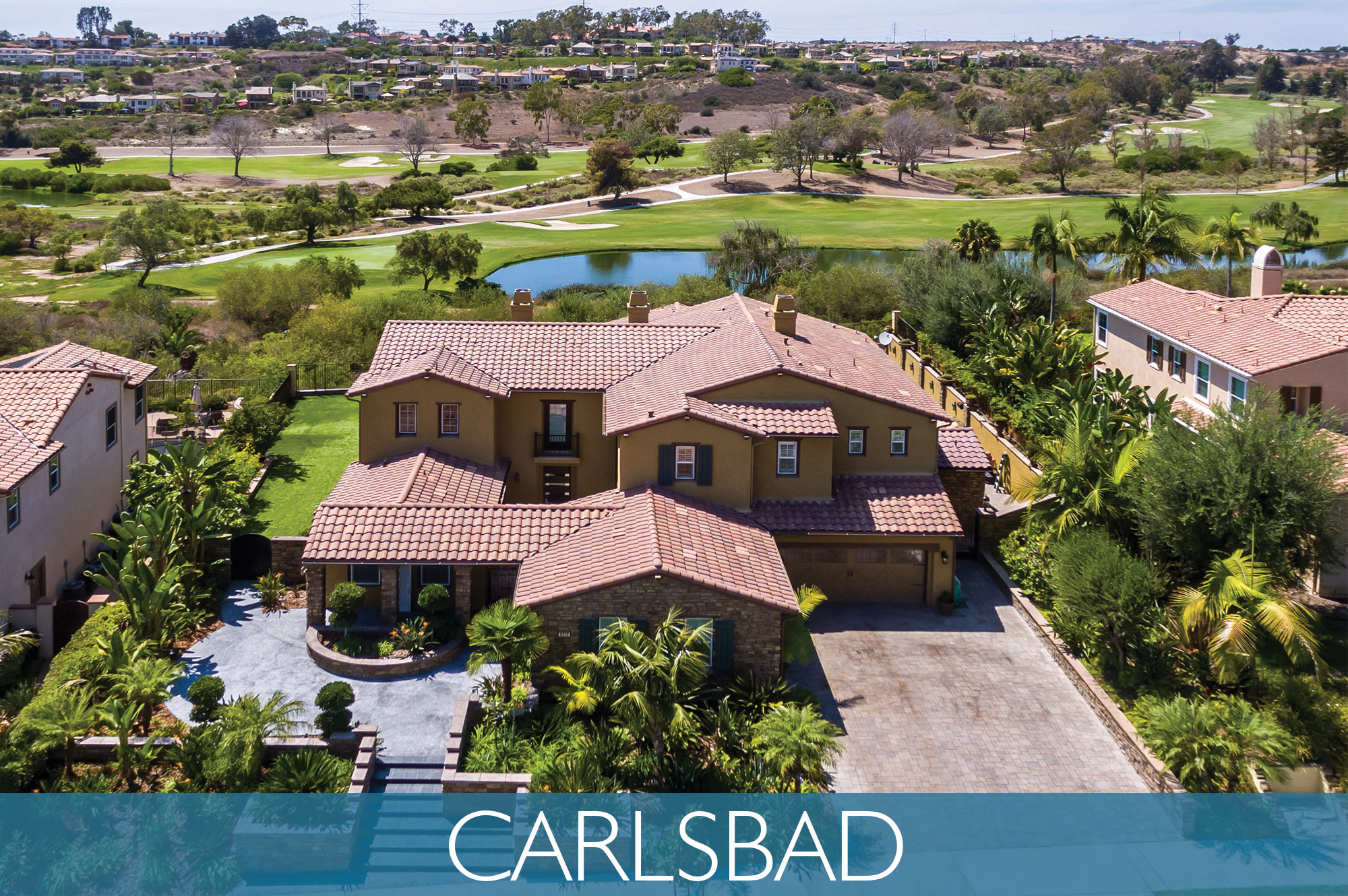 Simply click on your preferred price to see search results in your price range!
Carlsbad Real Estate Search
Carlsbad is a large coastal community located 35 miles north of downtown San Diego. Encompassing four zipcodes, Carlsbad is one of the largest cities in San Diego County. It offers all of the charm of a coastal village while still providing all the day-to-day necessities and activities to support a large population. Carlsbad is repeatedly ranked on national lists of the best places to live in America!
Notable Carlsbad Attractions and Activities:
* Beaches - Carlsbad encompasses 7 miles of San Diego coastline. Residents enjoy year-round fun at its local beaches including South Ponto Beach, South State Beach, North Carlsbad Beach, Terramar Beach, and Tamarack State Beach. Whether you enjoy surfing, swimming, walking on the beach, or merely getting some sun, Carlsbad has miles of beaches for you to enjoy!
* Carlsbad Village - Carlsbad Village is located in the heart of the coastal downtown area and provides blocks of shopping, dining, and entertainment.
* The Flower Fields - Every spring, residents and tourists flock to The Carlsbad Flower Fields where acres of Giant Tecolote Ranunculus flowers bloom. You can walk amongst the beautiful flowers, take pictures, or enjoy special seasonal activities while the Flower Fields are open.
* Golf - Carlsbad offers several world-renowned golf courses to enjoy including The Crossing at Carlsbad, the golf course at the La Costa Resort, and the links at the Rancho Carlsbad Country Club.
* La Costa Resort & Spa - San Diego's premier resort, The La Costa Resort & Spa offers world-class amenities from its hotel rooms to the many pools on the grounds to the golf course and of course, the spa itself. Book yourself a weekend at the La Costa Resort for a luxurious experience you won't forget!
* LEGOLAND California Resort - A San Diego institution, LEGOLAND has expanded in recent years to include the SEA LIFE Aquarium, LEGOLAND waterpark, and its own hotel for guests to stay at.
* Lagoons - Along with its 7 miles of beaches, Carlsbad also features many beautiful lagoons that are perfect for an afternoon or evening stroll with the family. Batiquitos Lagoon, Aqua Hedionda Lagoon, and Buena Vista Lagoon are all located in the Carlsbad community.
* Museum of Making Music - A unique attraction, the Museum of Making Music offers guests the opportunity to not only learn about the history of music, but also the ability to touch and play many different musical instruments!
Median Sales Price for Carlsbad For the Past Year