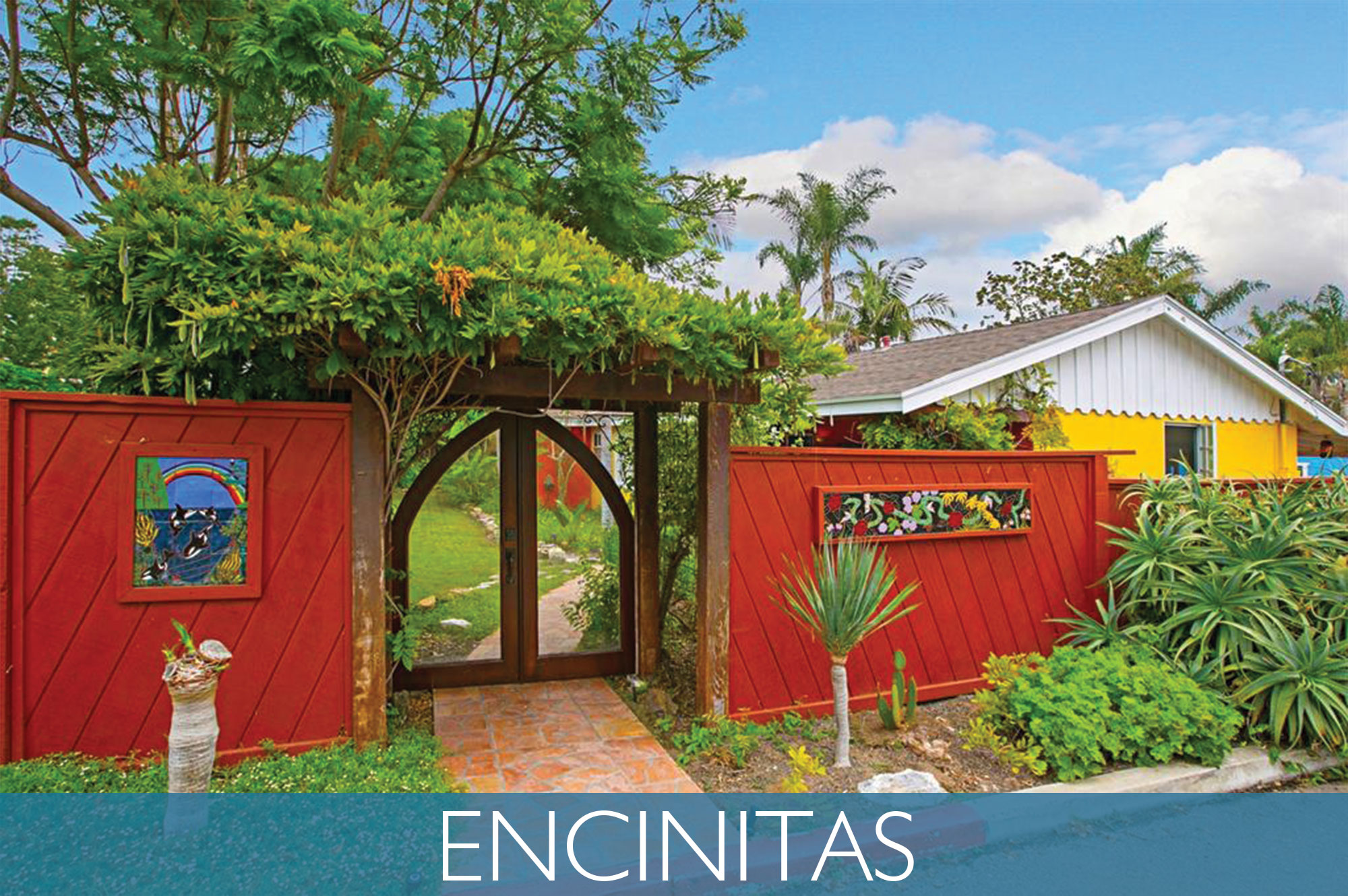 Simply click on your preferred price and see instant results within your price range!
Encinitas Real Estate Search
Encinitas sits along six miles of San Diego coastline and is bordered by Carlsbad to the north and Cardiff-By-The-Sea to the south. Encinitas is one of the most vibrant coastal communities in San Diego and has a local flavor all its own.
Notable Encinitas Attractions and Activities:
* Beaches - Whether you want to surf, scuba dive, go tide pooling, sunbath, hike, or even camp, there's a beach for everyone. Encinitas' most popular beaches are Swami's and Moonlight. There's also great scuba diving just offshore from Swami's at the Encinitas Marine Life Refuge, North County San Diego's only underwater park.
* Encinitas Ranch Golf Course - Encinitas Ranch features 18 championship holes and panoramic ocean views!
* Historic Downtown Encinitas - Highway 101 runs through historic Encinitas, which was founded over 100 years ago. Residents and visitors love this area for its unique mix of local shops and restaurants. Spend the afternoon strolling the 101 to really experience the community of Encinitas!
* Leucadia - Leucadia sits just north of historic Downtown Encinitas and while it also features fabulous local dining and stores, it tends to be a little quieter than the downtown area which is often bustling with visitors.
* San Diego Botanic Gardens - The beautiful San Diego Botanic Gardens are located in Encinitas and are home to hundreds of flowers, plants, and trees for guests to admire.
* San Elijo Lagoon - The reserve encompasses approximately 900 acres of diverse habitat. You can experience the beauty of San Elijo Lagoon by exploring the 5 miles of hiking trails that wind their way through the reserve.
Median Sales Price for 92024 For the Past Year